Top 10 Tips For Crafting a Beverage List For Your Restaurant or Bar
Laure Joumier . 01 August 2022
For many businesses in the food and beverage industry, beverages are often the most profitable items on the menu. Whether you own a casual bar or an upscale bistro, crafting a well-designed beverage list is a critical component of the overall success of the business. 
At Menutech, we have helped restaurants and bars around the world increase profitability through their menus. Along the way, we have learned countless tips and tricks on the best ways to optimize a beverage list. 
Here are the top 10 tips for crafting a beverage list for your restaurant or bar: 
1. Keep the beverage list separate from the food menu.
The first step in creating the perfect beverage list is having a beverage list. If you combine your food and beverage menus into one, then you run the risk of having a cluttered and confusing menu. Keep it clean by keeping it separate. 
Not only will separating your food and beverage menus result in a cleaner appearance, but it will encourage the customers to spend more time perusing the beverage list. To summarize, these are the benefits of keeping your food and beverage menus separate:
Cleaner appearance

Limits confusion

Encourages customers to spend more time checking out the drinks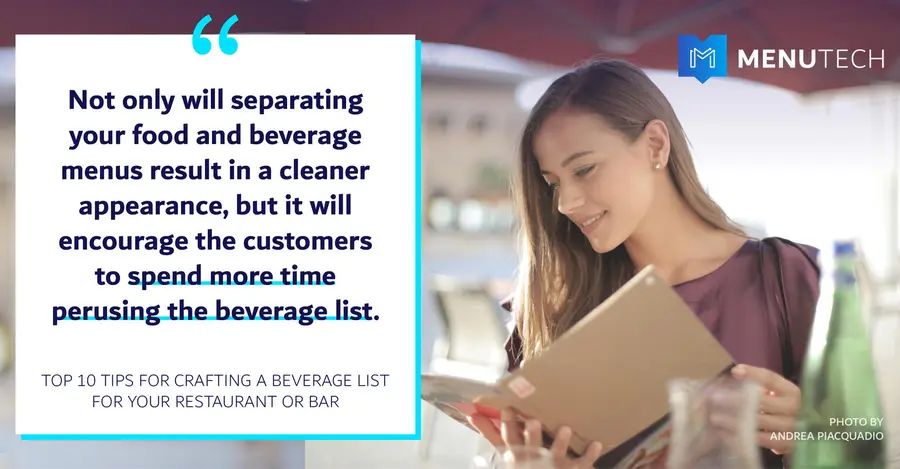 2. Take your customer base into consideration.
Before you create the beverage list for your restaurant(s), ask yourself who will be drinking the beverages. The drinks you put on your beverage list should match the overall vibe of your restaurant and its customer base. 
Are the majority of your customers university students and families? If so, it would benefit you to use cheaper liquor, eclectic drink recipes, and a fun beverage list design. 
However, if you run a more upscale establishment with high-end customers, it would make more sense for you to use higher-end liquors, straightforward drink recipes, and a no-nonsense beverage list menu design. 
3. Draw attention away from the prices.
One of the key aspects to a great beverage list is making the prices an afterthought. The goal is to have customers make their drink selections based on which beverage sounds the most appetizing, not which beverage is the cheapest. 
It is not uncommon to see dotted lines that lead from the menu item to the price of the beverage, but all this does is remind customers to check the price before making a decision. These are a few things you can do to draw attention away from the prices on a beverage list:
Leave out the dotted lines.

Remove the currency sign.

Use a lighter and/or smaller font for the prices. 
4. Include descriptions for your cocktails.
When customers order beer, soda, and wine, they know exactly what they are getting. However, when it comes to cocktails, it's important to break it down for them. Good cocktail descriptions are key in increasing your overall bar sales. 
If someone is dining at a tiki bar and sees a drink on the beverage list called "Mad Tiki Punch" with no other information, how can they possibly know if they want it? Using fun names is always a good idea, but it's still important to list out the ingredients in a brief description. 
Oftentimes, this is the difference between whether or not you make a beverage sale.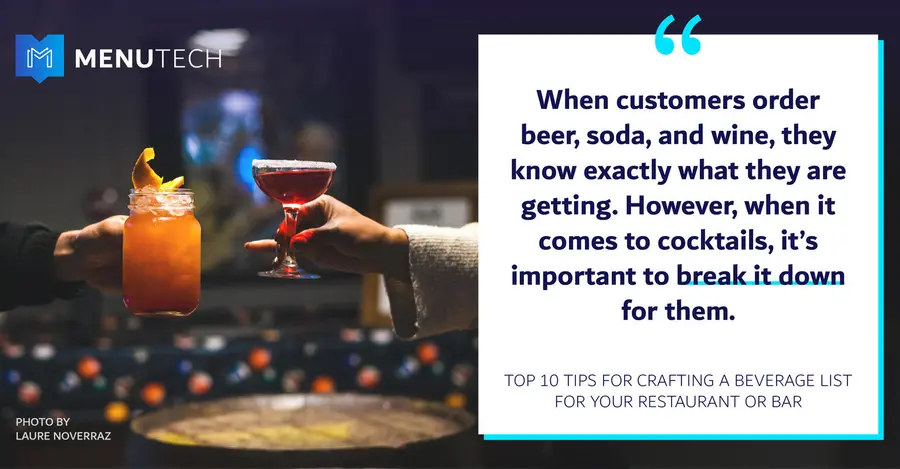 5. Don't be afraid to use leftover ingredients in drink specials.
Food waste is a very real issue in the food and beverage industry. In the EU alone, humans generate around 88 million tons of food waste each year. By repurposing leftover ingredients for new dishes and drinks, you can help to reduce this number and save money in the process. 
Let's say you have a bunch of leftover cucumbers that won't be fresh for much longer. Slice them up and use them for cucumber cooler cocktails as a daily drink special. Obviously this method won't work for the leftover steak from last night, but you get the idea. With a little creativity, you can cut back on food waste and increase profitability. 
With Menutech, you can quickly adapt your beverage menus to include leftover ingredients in drink specials. Your menu's sharelink will automatically update itself on your website, your social media, and your corresponding QR code — no need to reprint or re-upload any file.
6. Make sure the pricing is consistent throughout the beverage list.
While it's normal to see a price variance between different types of alcohol, make sure to keep the pricing consistent. No one expects beer to cost the same as liquor-based cocktails, but if the prices of your cocktails are all over the place, your customers are going to wonder why. 
If you have cocktails on your beverage list listed at different price points, make sure that it's clear to the customers why that is. Perhaps the more expensive cocktail is…
A larger size

Involves a more high-end liquor

Utilizes pricier mix-ins
By indicating these variances in the description, you can eliminate the need for questions. Customers are more willing to buy the pricey drinks if they know exactly what they are paying for.
7. Let your surroundings inspire your beverage list.
By utilizing local ingredients in the drinks on your beverage list, your business can benefit in a number of ways: 
It cuts back on costs and unnecessary food waste. 
It fosters a sense of community. 
It sets an example by supporting the local economy. 
It shows your customers that your business is proud of where it comes from.
If your town, region, or country is known for a specific type of fruit, incorporate that fruit into some of the drinks on your beverage list. If your business is located in a country with specific holidays that hold a special place in the hearts of the locals, create a drink special around it during that time of year. 
For example, if your business is located in the Netherlands, you could promote a drink special each year in April dedicated to King's Day. It is important to show your customers that your business takes pride in the community and you can do so through your beverage list.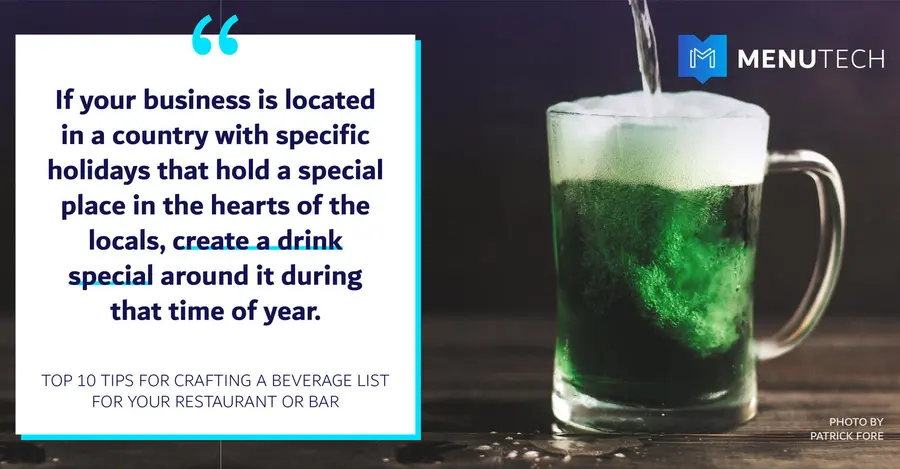 8. Consider the growing trend of digital beverage lists.
With the onset of the COVID-19 pandemic, restaurants around the world have turned to digital restaurant menus as a contactless option for safety purposes. However, there are several benefits of going the digital route for food and beverage menus: 
They save you money on printing costs.
They save you time.
Changes can be made in real time.
At Menutech, many of our clients opt for digital beverage lists because of their ability to be adjusted in real time. Should you want to alter a price or add a new special, you can do so instantly with a few clicks of a button. This saves you both time and printing costs. 
9. Use photos, but only when it works.
Featuring professional shots of your high-margin cocktails is a great tool that has been proven to increase sales. However, keep in mind that not all restaurant menu designs are meant to include images. 
If you can't fit professional images onto your beverage list in a way that looks aesthetically-pleasing, do not force it. There are other ways to incorporate professional beverage shots into your business without adding them to the menu. For example, you could print them onto table tents or upload them to your social media platforms. 
10. Don't forget the mandatory declarations regarding alcohol sales.
As always, keep in mind the regulated health and safety guidelines for your country.
Make sure your liquor license is up to date,
Only make alcohol sales within the legally permitted hours, and
Always verify the age of your customers through identification cards. 
In many countries, there are different types of licenses depending on the establishment and the types of sales you wish to make. Ensure that your staff is fully aware of all mandatory declarations regarding alcohol sales before putting out your beverage lists.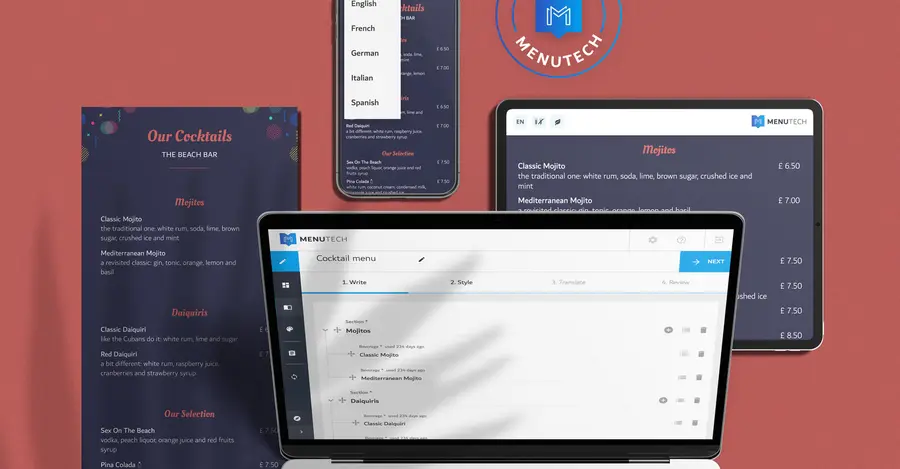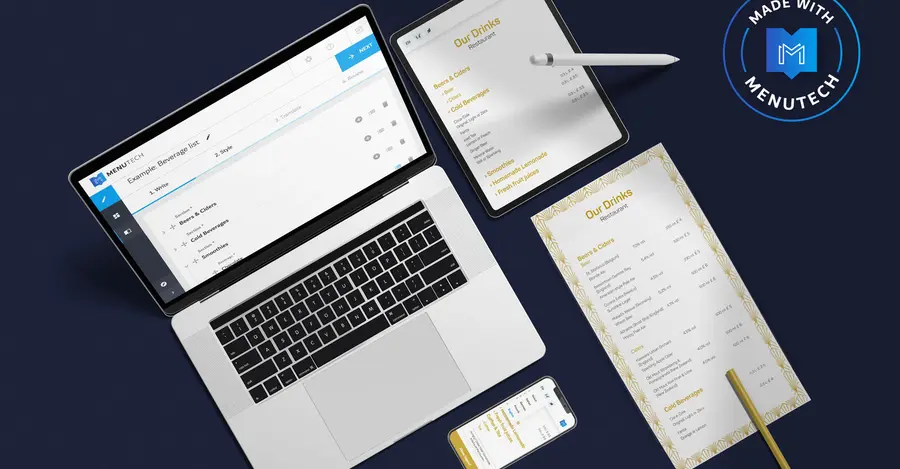 By following these simple tips on crafting a beverage list for your restaurant, you can elevate your establishment and increase profitability for the business. 
To add your own ideas or ask us a question about the tips above, tweet us your thoughts at @menu_tech. 
Sources