Top 10 Tips For Crafting a Breakfast Menu For Your Business
Laure Joumier . 02 November 2021
In recent years, the food and beverage industry has seen a massive surge in the breakfast market. Increasing numbers of people are choosing to eat out for breakfast or brunch, especially at businesses with healthy options on the menu. If your business has not seen success with its breakfast service, it could be a direct result of your menu.
Through years of experience, our team at Menutech has picked up quite a few tips on how to best optimize a menu. By optimizing your breakfast menu to capitalize on the growing trend of dining out in the morning, you can significantly increase profitability for your business. We've rounded up the most important tips for how to optimize your breakfast menu.
Here are our top 10 tips for crafting a breakfast menu for your business:
1. Understand the importance of a well-designed breakfast menu.
Not only is the design of your breakfast menu important for aesthetic reasons, but it also holds the power to influence how your customers will spend money in your establishment. Some restaurant menu design tips to consider include:
Listing the price in a lighter font color than the menu item descriptions
Omit the currency symbol from the menu so customers don't focus on the price
Splitting the menu into sections (eggs, sweets, etc.)
If you use photos, use them sparingly and make sure they are professional shots
Select a breakfast menu template that fits the personality of your restaurant
At Menutech, we offer more than 30 customizable restaurant menu designs for you to choose from. We remove the stress associated with creating a high-quality menu for your business, so you can focus on the food.
2. Utilize local, in-season ingredients on your breakfast menu.
The term "locally-sourced" has become a major buzzword for the food and beverage industry. Customers love dining at establishments that utilize local ingredients because it allows them to feel like they are contributing to the betterment of the community.
By utilizing local and seasonal ingredients on your breakfast menu, you can benefit in three significant ways:
It keeps costs low.
It supports the local economy.
It makes the customers happy.
It maintains a higher nutritional value.
It's a win, win, win, win!
3. Consider adding customizable choices.
In recent years, breakfast trends in the food and beverage industry have evolved a great deal. One of the most popular trends nowadays is customizable breakfast choices. This involves starting with a base and allowing the customers to select their toppings from a list of options. For example:
Fill-your-own omelettes

Build-your-own smoothie bowls

Make-your-own breakfast sandwiches.
Customizable breakfast choices have become an industry-wide trend that has seen tremendous success at all types of restaurants. If you want to boost your breakfast sales, consider adding some type of customizable option to your breakfast menu. It's a food trend that likely isn't going anywhere anytime soon.
4. Don't overload your breakfast menu with options.
Options are a beautiful thing, but there is such a thing as too many. Customers will spend, on average, under two minutes reading a menu. You should offer a mix of traditional breakfast dishes and specialty items to give your customers a good variety, but keep it limited to a well-designed single page menu.
If you have to squint to read the descriptions in order to keep everything on one page, then it's time to eliminate the least popular dishes. Offering too many dishes on your breakfast menu is likely to result in a stressed out kitchen staff, tons of food waste, and ultimately; a loss of profits.
5. Make sure to incorporate healthy options.
While the entire menu certainly does not need to consist of healthy dishes, it is important to make sure that the menu offers a combination of both lighter and heavier choices. By offering both, your establishment will be able to capture a broader customer base and ultimately obtain more business.
Incorporating healthy options into your breakfast menu does not necessarily have to mean changing the current items. It could simply mean providing alternatives for customers to choose from.
For example, offering the choice of wholegrain toast instead of sourdough toast and allowing customers to choose between a side of homestyle potatoes or a side of fresh fruit.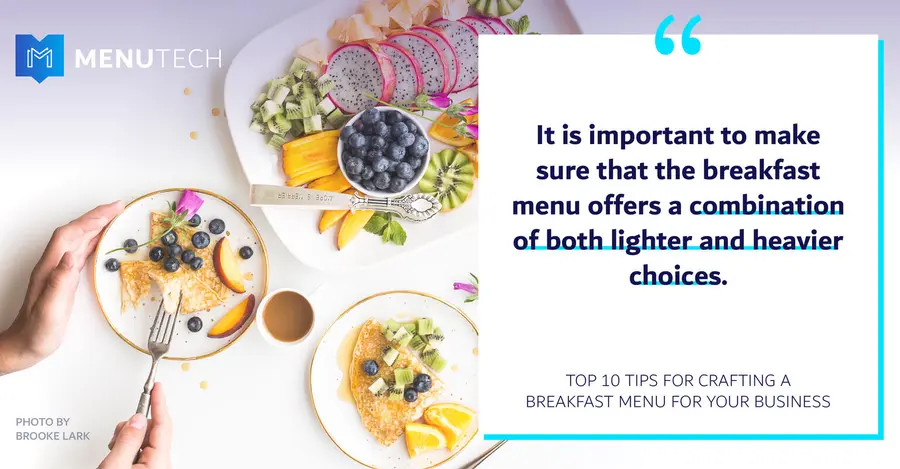 6. Create a unique signature dish.
With the rising popularity of dining out for breakfast, it's important to stand out among the many other businesses out there. If you offer the same breakfast sandwiches and omelettes that can be found at any other restaurant, why would someone choose yours over the others?
By creating a unique signature dish that cannot be found at other businesses in your area, you can help make a name for your business and set yourself apart. This could be as simple as taking a current menu item and slightly altering it with an ingredient or style that represents your business or the town your business is located in. It's really this simple:
Create a signature dish.
Use your restaurant's name in the title or description.
Get the word out both in-house and on social media.
7. Promote your breakfast menu.
If you offer a fantastic breakfast menu but nobody knows about it, then what's the point? Whether you have always served breakfast or have just decided to add a breakfast service, it's critical that you promote it. You could do this by:
Posting on all of your social media platforms regularly.
Creating posters to hang in-house advertising your breakfast menu.
Make sure there is a separate menu on your website specifically for breakfast.
With Menutech, any changes made to your breakfast menu will automatically update on your website, social media and QR codes. 
The more you promote your breakfast menu, the more word will spread, and the more likely your breakfast service is to be a success. The customers can't fall in love with your amazing breakfast menu if they don't know it exists!
8. Offer something special on holidays.
Holidays like Easter and Mother's Day are huge for the food and beverage industry, especially when it comes to breakfast and brunch services. To ensure that your business capitalizes on these popular holidays, consider offering something special that enables your establishment to stand out.
For example, you could offer free mimosas to all mothers on Mother's Day or free desserts for children on Easter. With so many restaurants to choose from on a busy holiday, it's important to make sure that your business stands out. This also does not necessarily have to mean giving anything away for free. Here are some easy ways to do something special for breakfast on the holidays:
Create a special prix-fixe menu available only on the holiday.
Offer a new holiday-inspired dish for a limited time.
Come out with a holiday-inspired special.
9. Don't underestimate the importance of good coffee.
For many people, one of the key components of a good breakfast is a good cup of coffee to go along with it. Not only is it incredibly important to offer quality coffee, but it's a great area to upsell in. Rather than just offering your customers a simple cup of coffee, include high-margin offerings like lattes and espressos that you can list at higher price points.
By including a range of high-quality coffee options for your customers, you can significantly increase your sales and ultimately help your business to thrive. To summarize:
Coffee is a must.
Make sure your coffee is high-quality (aka make sure it tastes good and is ethically sourced).
Offer high-margin choices like lattes and espressos.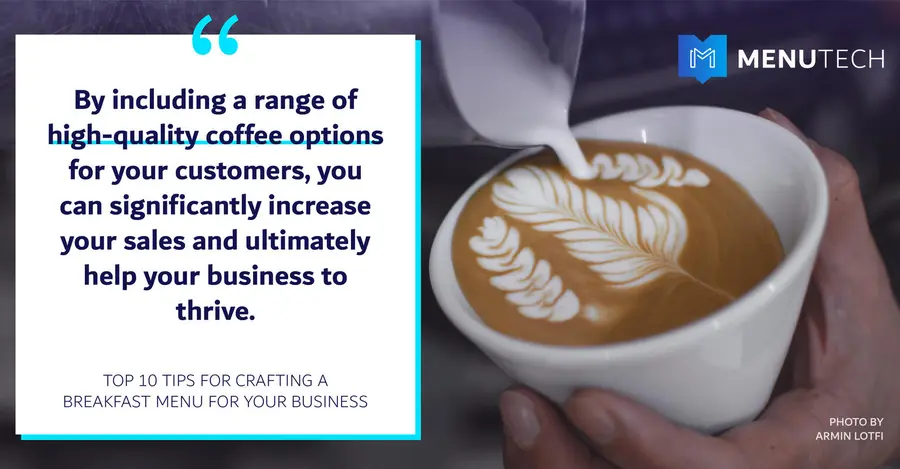 10. Be transparent about the food contained in your menu items.
Before you publish your newly optimized breakfast menu, double check to make sure it follows all required health and safety guidelines in your country. This involves:
Identifying any potential allergens
Following EU food safety laws
Monitoring contaminants
By incorporating these useful tips into the breakfast menu preparation for your business, you can use your breakfast service to gain a larger customer base and increase overall profitability. Clear dietary and allergen declarations on your breakfast menu makes everyone feel welcomed.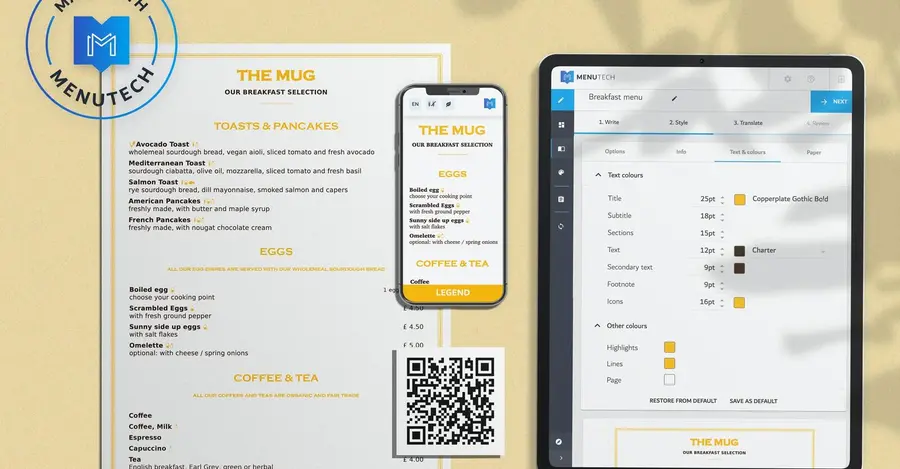 Sources: