5 examples of menus with allergens
As of 13 December 2016, new EU food labelling rules are in force: from this date became the EU Regulation No. 1169/2011 on the provision of food information to consumers (EU FIC) applicable to hotels, restaurants and canteens.
The allergen iconography style you use on your menu depends on your cooking style: modern colour points, allergen icons in vibrant colours, elegant visual icons, etc. There is so much more than allergen letter codes! The menu examples below will give you an idea of what you should include when you are creating one for your establishment.
The menu designs below are available on all Menutech accounts.
Multilingual À la carte menu with clear allergen visual codes
With several languages displayed on your menu, the print design risks getting an "overcrowded effect". This is why it is best to use a generous amount of white spaces and dedicate clear sections to each of the provided information. The clear information hierarchy makes it easy for both allergic and non-allergic guests to make their choice.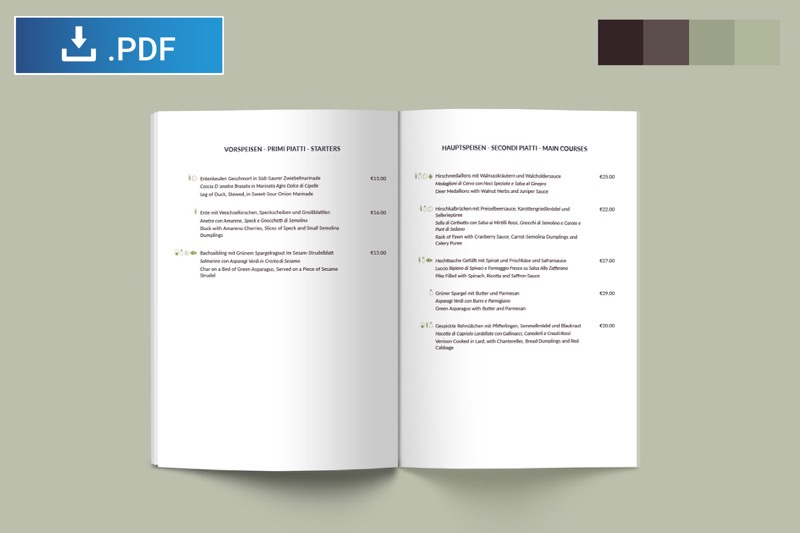 Children menu with colourful allergen icons
Food Allergies most common amongst children. This is why it is further essential to keep allergen icons clearly visible on their dedicated menu.
Elegant fixed menu with centred allergen icons
This menu is ideal for wedding receptions: the allergen icons are subtly embedded in the design's colour palette, yet remaining clearly legible for guests with dietary requirements. 
Dessert menu with explicit allergen icons
Desserts tend to be allergen-heavy. So why not use allergen icons as a core element of your dessert card design?
Choice menu with themed allergen icons
In a choice menu, a right balance between allergen information and meal separators must be found. By keeping a strong colour theme, the reader easily finds the information he or she is looking for. 
What is next?
Inspired? Setup your free trial account with Menutech and write a quadrilingual menu with allergen information in just 4 minutes.
All the menu designs above are immediately available on your trial account.
Let our competent team design your menu template
Our design service allow you to easily turn your menu into a masterpiece, and provide the mandatory allergen information to all your guests. Once uploaded onto your Menutech account, you can write, download and print as many menus as you need.