Creating food menus for hospitals and nursing homes requires good planning. The list of ingredients and preparation methods of each meal must be clearly identified by food service and nursing staff and individually communicated to patients. Meal planning must be carried out consistently to allow for adjustments during the order taking process, particularly for nutritionally vulnerable patients and residents.
The goal of hospital menu planning is to offer food that is suitable for the nutrition needs and medical circumstances of the patients. The following section emphasises aspects of the menu design process that need to be considered and that can affect intake and subsequently nutritional situations.
Are you preparing food menus in hospitals and nursing homes? This food safety article will help you find out:
The most common special diets to consider
The most important nutritional values to show on food menus
The teams involved in the menu writing process
How to keep control over the time spent preparing and collecting food menus
Identifying all patients' dietary requirements before writing your menu
Creating a specific menu for hospitals or nursing homes may require complex planning: In addition to the classic menus, the health facilities or nursing homes deal with the diversification of menus that involve the analysis of the many types of diets needed in relation to the pathologies of patients.
Some operations and particular therapies will require removal, addition or separation of specific ingredients; alternative preparations may also be taken into account.
Specific patient groups require additional considerations during menu planning. Commonly, these groups are:
Vegetarian and Vegan

Ethnic diets

Diabetes

Renal Diet

Hight fibre and Low Fibre

High Protein and energy

Oral Nutritional Supplements

Gluten-free and Wheat-Free

Lactose-free and Low lactose

Reduced Salt, Potassium, Phosphate ...
It is therefore useful that a meal plan is structured considering the above factors.
Menutech, our meal planning and menu making software helps you prepare healthy menus that are individualised to the individual dietary needs of your patients.
Menutech gives the chance for food and beverage departments to meet all nutritional needs mentioned in the list above through the automised creation and customization of menus. Patients with food allergies rely on the provision of consistently accurate information about ingredients used to prepare meals: The automatic detection of allergens and translations simplifies the declaration of allergens so that the patient can make informed decisions on what to eat.
Providing complete information: calories, recipes and nutritional traffic light rating system
Adequately informing and providing a diverse meal plan for your patients is essential at all stages of hospitalisation regardless of dietary restrictions or preferences they may have.
Ensure the provision of all necessary nutrients thanks to varied and balanced meals. The basic menu in hospitals should take into consideration different rules, which constitute the base of a proper nutrition plan.
Given the importance of transparency and safety in the food service sector, Menutech offers the possibility to use the nutritional traffic light rating system directly on food menus. Nutritional information is detailed with energy, fat, saturated fat, sugars, and salt values.
This helps both patient and nursing staff in evaluating food choices. Quickly comparing different meal options is essential to ensure that the patient's meal plan contains an adequate amount of macros and nutrients.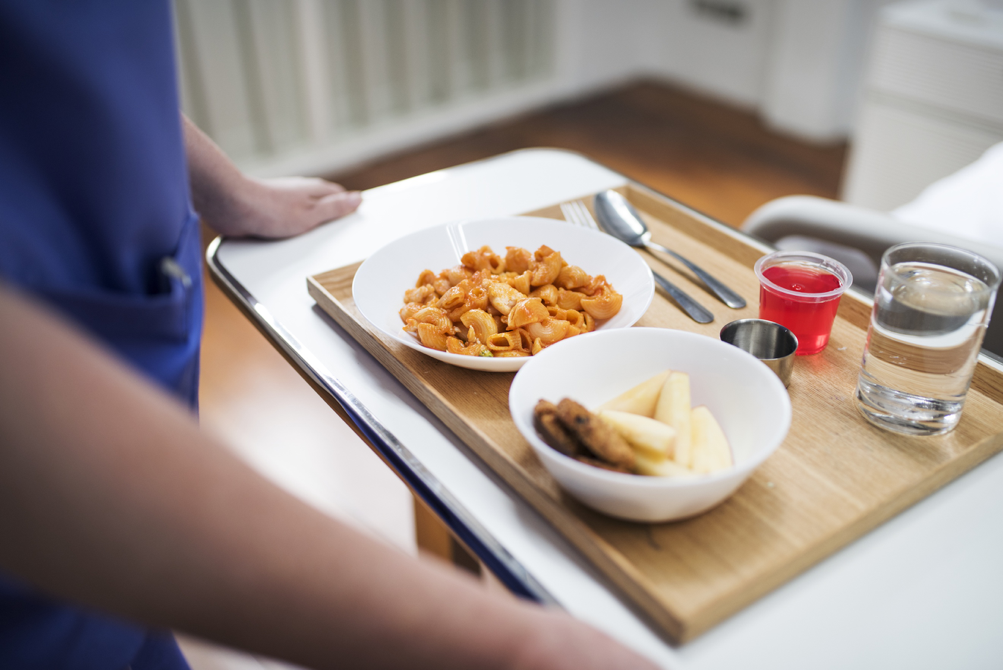 Menu planning and development: enabling team effort on a cloud-based solution
Planning a menu effectively requires the collection of a wide range of information and input from numerous groups within a hospital.
Multiple teams working together and planning a menu need to consider the proper nutritional requirements of hospital patients and allow each member to share specific knowledge and skills regarding the patient population needs and hospital services. 
A diet plan is generally provided by dieticians: they decide alongside the catering company or the internal kitchen, the weights and the number of calories required by the clients as well as the types of recipes and other important factors concerning the diet program.
Doctors usually prescribe dietary requirements in case of particular pathologies whereas dieticians are responsible for the composition of diet plans. The nursing staff will provide stronger support for planning decisions and implementation at the ward level.
In light of the above, it is possible to better understand that both the order taking procedure and the summary of orders for the kitchen are established within the individual departments.
Menutech lets hospitals centrally manage patients' dietary preferences and adds preparation methods to each meal choice (for example, "Diet without salt", "Fish and meat: always half a portion"). The procurement summary and the kitchen order quantities and instructions are automatically exported in just 1 click.
In addition, our software helps to save time by avoiding the continuous transmission of information and by giving access to several team members, so that the information is shared in real time across all teams.
Exporting a summary of orders for kitchen staff has never been easier, orders can be grouped by day, by option and by comment (e.g. "Lemon butter salmon with potatoes and vegetables: 15 standard recipes, 3 without salt, 2 half portions of fish, 1 without potatoes").  
Communicating food menus: save time with live updates
A well-crafted meal plan relies on sharing up-to-date information, from the kitchen and nursing teams until the patient. 
Thanks to Menutech, hospitals can embed a unique URL link on their website for their meal plan to automatically update itself on a daily, weekly or monthly basis. For example, every Sunday at 17:00, the food menu for the next Monday is displayed. No need to download and re-upload files.
Our software also accelerates the order-taking process thanks to mass-personalised food menus from a central meal plan. The individual dietary requirements are taken into account when generating the meal options for each patient: nurses immediately assist patients with the most relevant information at hand. 
Start benefiting from automation in the meal planning and food menu preparation for your hospital with Menutech. There is no installation required: the software is easy to use for catering staff, nurses, doctors, and dieticians. Try it here for 10 days or get in touch with our enterprise programme experts for a free demonstration of our software.
Sources: